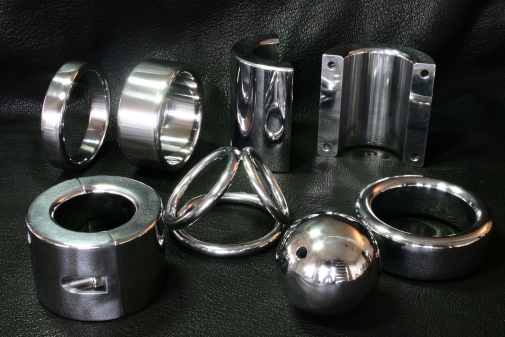 We are the original manufacturer of Stainless Steel CBT Toys.
Welcome to the Happy Cock web site! We are the proud, original manufacturer of the world's finest solid stainless steel cock rings, donuts, ball weights, anal balls and eggs, and tit tuggers. On this web site you will find all our sizes, weights, and styles of CBT metal gear for your perusal and purchase.
Our Goal
Is to provide you with high-quality products that won't peel, chip, corrode, nor cut. Safety comes first here. Your satisfaction is a priority with us. All our products are Made in the USA to exacting tolerances.
Company Profile
Happy Cock is a division of Happy Tails (www.flogger.com). Many people recognize the Happy Tails name for quality floggers, whips and leather SM gear. Now you'll get to know us for our great metal gear for men.
"Here at Happy Tails we take pride in producing only the very best. Your safety and comfort is important to us. No sharp edges, no peeling, no cuts and many hours of enjoyment using our products is what we want for you! We produce our gear in so many sizes you'll be sure to find the one right for you!"